Ending South Korea's coal power financing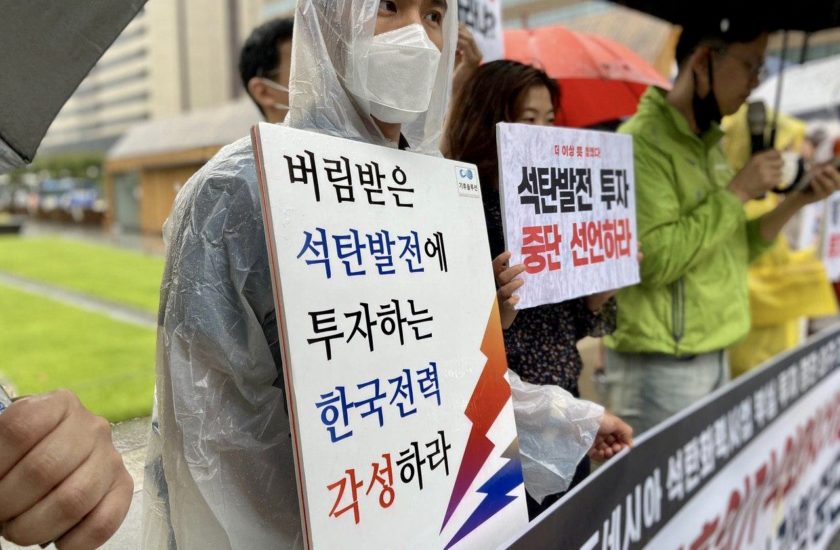 South Korea serving as an example for other Asian countries to follow suit
Organisation
Solutions For Our Climate
Programme Area
Sustainable Finance
South Korea has earned the title of "climate villain" internationally for being one of the top three public financers of overseas coal power projects. These investments do not only accelerate the climate crisis, but also threaten the livelihoods of local communities. Domestically however, the country relies on coal for about 40 percent of its electricity with renewables only making up less than 6 percent, and thousands of jobs are tied to coal power plant manufacturing and construction.
Seoul-based NGO Solutions for Our Climate (SFOC) works with domestic and international civil society organisations to pressure South Korean policymakers to deliver on a Korean Green New Deal, a multibillion-dollar plan to phase out coal power. The first step in the right direction for this goal was taken when President Moon Jae-in in October declared that his country is going to be carbon neutral by 2050 and end its dependence on coal in line with similar commitments pledged by China and Japan. If turned into action – it would mean that two-thirds of the world's coal use and nearly half its CO2 emissions would be covered by national or regional net-zero goals.
However, fundamental changes in the country's energy policy are still needed to make the net-zero emissions target possible. By exposing the financial risks associated with domestic and overseas coal power projects, SFOC continues to pressure the South Korean government and financial institutions to delay or fully withdraw loans to these projects.
Solutions For Our Climate
Solutions for Our Climate is an independent policy research and advocacy group working to align South Korea's power sector emissions to be compatible with the Paris Agreement. SFOC aspires to make South Korea the first East Asian country to phase out coal power, end public financing for coal power projects, and complete an energy transition toward 100 percent renewables.
Aims of the project:
To induce the Korean Government to withdraw from planned overseas coal power investments and declare a moratorium on public institutions' overseas coal financing.
To delay the execution of loans by syndicate lenders to domestic coal power projects through revealing financial risks associated with new coal power projects.
To reduce fossil fuel exposure by pressuring Korean financial regulators and corporations to impose stronger standards
"Good to see another partner step up in the fight against climate change. We are with you South Korea. The world is coming together."