Bridging the gap through low-carbon lifestyle
Recognising the need for changes in lifestyle and consumption behaviour
Organisation
UNEP DTU Partnership
Programme Area
Sustainable Behaviour
Around two-thirds of global emissions are linked to private households. Reaching the 1.5°C goal will require reducing consumption to an average per capita lifestyle carbon footprint of around 2 to 2.5 tons CO2 emissions by 2030. Not an easy challenge with current per capita consumption emissions at approximately 17.6 tons CO2 per capita in the US and 7.9 tons in the EU (+UK).
For the first time ever, the UNEP Emissions Gap Report has included a focus on lifestyle changes (or 'consumption emissions') as part of its analyses of the emissions gap between our current projections and the goals of the Paris Agreement. This was made possible through a unique collaboration between KR Foundation, Climate Outreach, the Centre for Climate Change & Social Transformations (CAST) and UNEP.
One of the key points of the chapter is that around two-thirds of global emissions are linked to private households, with the mobility, residential and food sectors each contributing about 20 percent of lifestyle emissions. This places a responsibility on governments, who must enable and encourage consumers to avoid high-carbon consumption, for example by replacing domestic short haul flights with rail, improving energy efficiency of housing and through policies that incite more sustainable diets.
The report also draws attention to the elite; the richest one percent, whose combined emissions account for more than twice the poorest 50 percent. If their footprint does not reduce by a factor of at least 30, the Paris Agreement targets can most likely not be met.
About the report
For over a decade, the UNEP Emissions Gap Report has provided a yearly review of the difference between where greenhouse emissions are predicted to be in 2030 and where they should be to avoid the worst impacts of climate change. With the chapter "Bridging the gap – the role of equitable low-carbon lifestyles", this year's report recognises the need for changes in lifestyle and consumption behaviour and firmly acknowledges that system change and behaviour change are two sides of the same coin. Although, the report concludes that we are not on track towards bridging the emissions gap, it points to hope in a green recovery in the wake of the COVID-19 pandemic, which governments should use as an opportunity to create more sustainable, resilient and inclusive societies.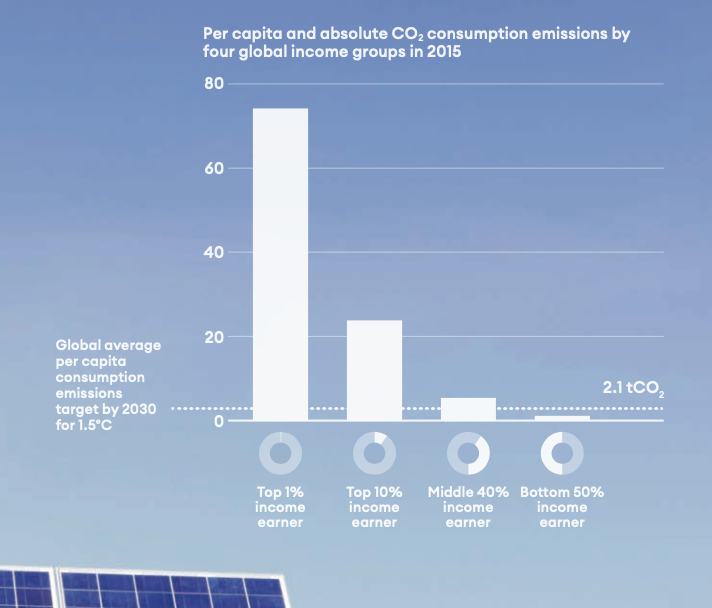 "The pandemic-linked economic slowdown is not going to make a real difference. We can expect a drop of up to 7 percent in carbon dioxide emissions this year. This translates to only a 0.01°C reduction of global warming by 2050. But a green recovery post COVID-19 can get us back on track. The report finds that a green recovery could cut up to 25 percent off the emissions we would expect to see in 2030 if we continue with current policies. This would bring 2030 emissions roughly in line with levels that give us a good chance of reaching the 2°C goal of the Paris Agreement. But much more is needed to reach the 1.5°C goal."
Inger Andersen, Executive Director UNEP
"Popular debate has often pitted 'behaviour change' and 'system change' against each other, presented as a trade-off between two choices. As this chapter illustrates, however, system change and behaviour change are two sides of the same coin"